Best Islamic Personal Financing
Compare. Apply. Reach your goals.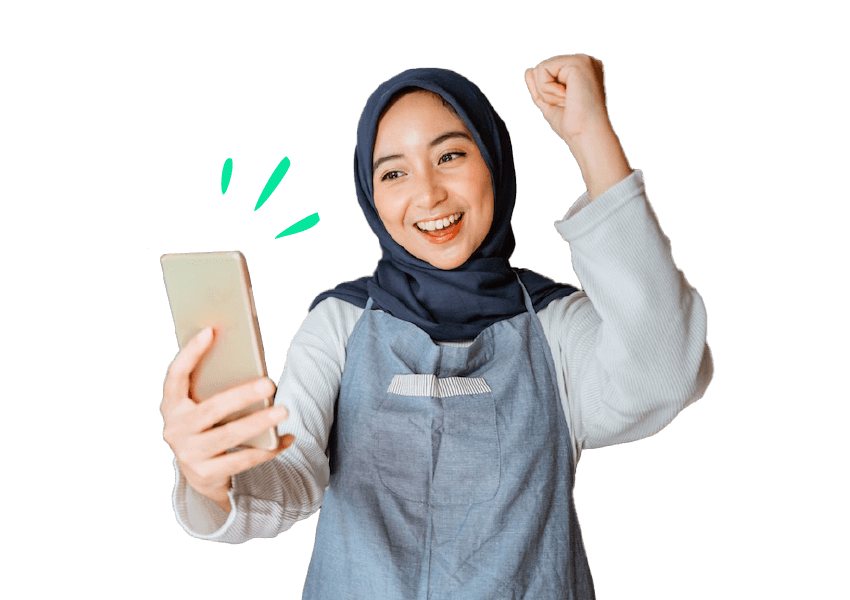 We found 32 islamic personal financing(s) for you!
Last updated: Sep 22, 2023
Other Personal Loan categories
Prefer to talk to our customer care agents?
How do you apply
for a personal financing online?
Step 1
Use our personal financing calculator to find the best personal financing based on your requirements and eligibility.
Step 2
Select the best product that fits your requirements from the list of recommended personal financing products listed and click on the Apply button.
Step 3
Fill in a form with your details to be submitted for application, and a representative from iMoney or the bank will call you to process the application.
Read more
about Islamic Personal Financing
FAQs
Personal Financing in Malaysia - FAQ
For those who are not comfortable with conventional loans and are looking for a Shariah-compliant alternative, then Islamic personal financing is the right thing for you. Islamic personal financing does not charge interest as interest is prohibited in Islam, instead the your financing will work on the murabahah or tawarruq mechanics. These allows the institution to still make profit from the transaction, but without utilising interest rate.
In conventional loans, banks earn from interest rates charged to the borrower. Meanwhile, Islamic financing is based on making a profit through the sale of commodities instead of interest or Riba which is prohibited in Islamic banking.

Instead of charging you an "interest rate", banks charge you a "profit rate" in Islamic financing. This is how it works:

When you apply for an Islamic financing, you are basically asking the bank to buy the exact item that you would've bought with the loaned money.
This item is then sold back to you at an additional markup.
You are then required to pay for the item in instalments or through a "rent-to-own" scheme. Any amount you pay in addition to the loan amount is called the "profit rate".

All this follows the principle of Murabaha which is essentially the concept of providing financing to consumers based on pre-determined profits rather than an interest rate.

Islamic financing products in Malaysia tend to include the -i suffix. For example, Maybank Personal Financing-i.

In addition to this, you will be quoted a profit rate instead of an interest rate when asking about personal financing.

You are charged "profit rate" instead of "interest rate"

As mentioned above, a key difference between conventional loans and Islamic financing is how the bank makes a profit. In conventional loans, banks charge an "interest rate" on the money you borrow. Meanwhile in Islamic financing, the bank buys the asset you wish to buy with the borrowed money on your behalf, and then sells it back to you at a markup.

Since the markup is predetermined, the additional amount you pay every month is fixed and called a "profit rate" instead of an "interest rate".

This adheres to Islamic banking principles which prohibits the charging of Riba (or interest).

There is no early settlement fee

An "early settlement" is when you finish repaying your loan earlier than the agreed tenure. Conventional personal loans charge you a fee for early settlement (typically 1% - 3%). On the contrary, Islamic financing gives you a rebate (or "Ibra") if you repay your financing earlier than agreed.

Islamic financing is government by Shariah principles. As such, they offer lower late payment fees, no early settlement fees, and have a more fixed repayment structure.

Yes, all Islamic financing products in Malaysia are required to be Shariah compliant.

Islamic financing offers no interest rates, as the concept of interest or riba is prohibited in Islam. However, the Islamic financing works on the mechanism of murabahah or tawarruq. These allow the financial institution to still make a profit from the transaction; which is why you will be quoted a profit rate when dealing with Islamic personal financing.

The requirements for Islamic personal financing varies from institution to institution. However, factors such your credit score, employment status, and income level are taken into account when applying for financing products.

Yes they can. Islamic financing is open to anyone who fulfills the requirements, not only Muslims.

The requirements are similar for conventional personal loans. While eligibility criteria may differ across banks and products, some of the basic requirements are:

Malaysian Citizenship - both Muslims and non-Muslims can apply
Minimum Age ranges between 18 - 25 years old
Maximum Age ranges between 58 - 65 years old
Minimum Monthly Income typically ranges between RM1,500 - RM5,000
A Guarantor or Collateral may or may not be required, depending on the bank

Use our personal financing calculator to find the Islamic financing that best fits your needs and eligibility.

All you have to do is click Apply on the top right of your screen, and we'll tell you what you need for you to proceed with your request.

In general, you will need:

A copy of your NRIC

Your payslip

Your EPF statement

You may also need other documents depending on your income status (salaried/self-employed/commission).

The max amount you can get from Islamic personal financing is RM200,000.

It depends on the lender, but most institutions require between one (1) to three (3) working days to process your applications.

Almost all banks and financial institutions in Malaysia offer their own Islamic personal financing. Browse through our Islamic financing comparison page to find what you need.

Murabaha – A financial arrangement between a buyer and a seller where the cost and markup of an asset are agreed beforehand. In Islamic financing, the borrower will repay the bank a fixed monthly rate (inclusive of the markup) instead of an interest rate as is used in conventional personal loans. Simply put, the "markup" replaces the interest rate (Riba) which is prohibited in Islamic banking.

Riba – The Arabic word for "an addition to" or "excess", Riba in the context of Islamic banking simply means "interest". Riba is prohibited in Islamic banking to ensure equity in exchange between a lender and a borrower.

Tawarruq – A concept followed by certain Islamic financing facilities. Tawarruq is essentially a financial arrangement where a buyer who needs liquidity or cash flow purchases a commodity from a seller at a higher price but on a deferred payment basis. The buyer then sells the commodity to a third party who pays on the spot.

Bai' al Inah - Islamic concept that financial institutions utilise in their Islamic financing. In simple terms, Bai' al Inah is a sale and buy-back agreement. In this practice, the financial institution (lender) will sell the borrower an asset at a fixed price, and then buy it back at a lower price. The difference between the original price and the buy back price is the profit rate, which will be set upon the agreement of the lender and the borrower.

If you would like to find out more about Islamic financing, head to our Learning Centre.