Compare and Choose the best Fast Approval Loans
for any urgent needs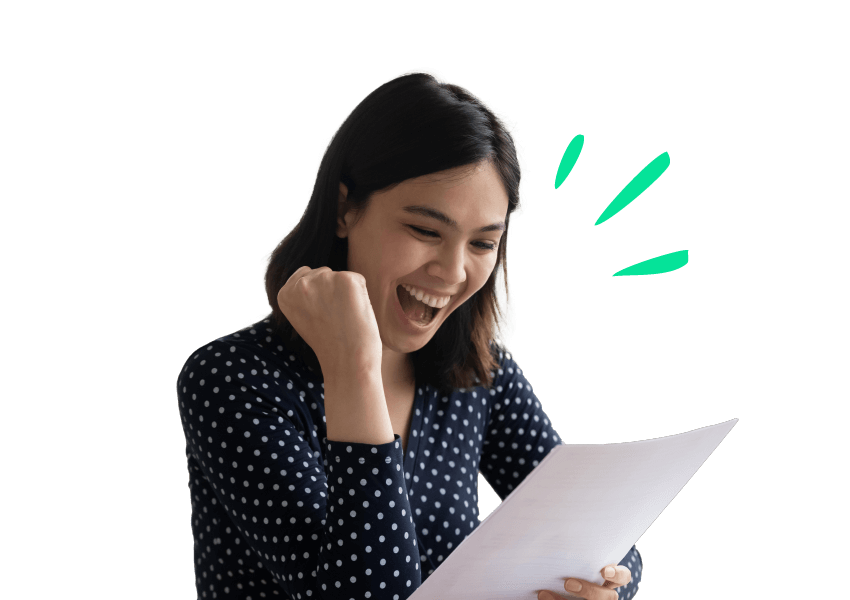 We found 17 personal loan(s) for you!
Last updated: Nov 24, 2023
Other Personal Loan categories
Prefer to talk to our customer care agents?
How do you apply
for a personal loan online?
Step 1
Use our personal loan calculator to find the best personal loan based on your requirements and eligibility.
Step 2
Select the best product that fits your requirements from the list of recommended personal loan products listed and click on the Apply button.
Step 3
Fill in a form with your details to be submitted for application, and a representative from iMoney or the bank will call you to process the application.
Read more
about Personal Loan
FAQs
Fast Approval Loans - FAQ
If you require a personal loan, whether it's to consolidate your debt, finance your studies, or even to pay for unexpected expenses, it's likely that you don't want to wait for more than a few days or weeks to get funded.
Typically, a fast approval loan allows you to get funded within one (1) to three (3) days -- though some are faster than others, depending on your financial institution of choice.
A fast approval loan is a personal loan that has a shorter approval duration, typically within one (1) to three (3) days.

Firstly, let's find out what is a conventional loan:

A conventional loan follows conventional financing principles where lenders lend money to customers like you and earn profit from the interest you paid on your loan every month.

What is an Islamic loan?

An Islamic loan follows Shariah financing principles which prohibits Riba (interest-based transactions). Instead, it is based on the concept of earning through the sale of commodities which looks like this:

Lending you the money is equivalent to the bank buying the item that you want to finance (e.g. car, renovation). This item is then sold to you at a markup price.
Refinancing: This is equivalent to you "buying the item from the bank" in your monthly repayments.

You can read more about it here.

What are secured loans?

Secured loans are where you are required to offer an asset (e.g. car, house) as a collateral in case you cannot repay your loan.

This means that the lender has a legal right to seize the asset you listed in the event you cannot repay your loan within the agreed repayment terms.

Bigger loans like home loans may also require you to list a guarantor in case you fail to repay your loan.

What are unsecured loans?

Unsecured loans are loans where the lenders are not required to list any asset as a collateral. Instead, they will assess you're your creditworthiness based on the following criteria among other factors before they decide if they want to lend you the money:

Your employment status
Your proof of income (at least 6 months)
Your credit score

These criteria will also determine how much you can borrow, your personal loan terms and interest rate.

Read more about it here.

In Malaysia one can be able to get access to personal loans, which can be as low as RM 1000 with some even exceeding the RM 150,000 mark. The loan amount that one can be able to access is determined by the individual needs as well as their ability to repay the loan. The terms offered by the given lender will also influence the decision to be made by the client. In a situation where one needs a loan amount that exceeds what is being offered by the lender one has the alternative of taking a secured loan.

If you choose the lender to be a bank, you have to follow the necessary procedure which could involve a loan agreement which will specify details such as the amount borrowed, the interest rate being charged and the amount that is to be paid on a monthly basis. The repayment terms will also be included in the loan agreement that is the monthly payment and how long the loan payment period will be. It is a given fact that the longer repayment periods will attract higher cumulative amounts for the payment of the loan.

The types of loan offered could either be secured or unsecured loans. The personal loans that most opt for in Malaysia are the unsecured type.

Currently, we have no banks or providers that offer approvals under one hour in our listings.

Typically, it can take any time from a day to a week for a fast approval personal loan to get approved. The quickest approval duration to get your personal loan approved is within one working day.

Anyone can apply for a fast approval personal loan as long as they are eligible for the loan. The most important criterion to meet is that you must be a Malaysian citizen to qualify for any personal loan.

Most financial institutions in Malaysia only cater to Malaysian citizens. You are advised to speak directly to your provider if you are a foreigner looking for a loan.

You can use the iMoney Personal Loan Calculator to find the most suitable interest and profit rates for you. You can also use the links below to find out more about the rates:

- Fast Approval Personal Loans by Banks

- Fast Approval Personal Loans by Non-banks

Here are the typical documents required when applying for a fast approval loan:

Proof of identity (MyKad)
Latest three months' payslip
Latest three. Months' bank statement
Latest EA or BE form (with official tax receipt)
Latest six months' EPF statement

Self-employed or business owner applicants:

Proof of identity
Business Registration Card
Latest B form (with official tax receipt)
Latest six months' company bank statement

When applying for our best fast approval personal loans, you can choose your repayment period from the options shown in our iMoney Personal Loan Calculator to get an idea of how much the monthly payments you can afford. Remember, a longer repayment period may result in a lower monthly payment but more total interest than if you choose a shorter repayment period for the same loan amount.

Find out more about monthly repayment of fast approval personal loans here.

Below is an example of a monthly instalment calculation for a fast approval loan:

You are looking to borrow RM20,000 from Provider A for 5 years to pay for a major life event. The interest rate offered by the provider is 4.99% p.a, no processing fee but with a 1% p.a. on outstanding loan amounts.

What do I get from this loan?

Loan amount: RM20,000

Loan tenure: 5 years (60 months)

Loan interest rate: 4.99% p.a.

How much interest am I paying for 5 years?

RM20,000 x 4.99% p.a. = RM998 per year x 5 years = RM4,990

What is my total borrowing amount?

RM20,000 + RM4,990 = RM24,990

What is my monthly instalment amount for 5 years?

RM24,990 ÷ 60 months (5 years) = RM416.50

It is recommended that you go through the loan agreement to familiarise yourself with the other fees that may be required for a certain loan. These could include stamp duties, cancellation fees, processing fees as well as other one-time charges.

Here are some of the fast approval personal loans offered by banks on iMoney:

| Bank | Approval Time | Interest/Profit Rate |
| --- | --- | --- |
| RHB Easy-Pinjaman Ekspres | 1-day | 13.45% p.a. |
| Alliance Islamic Bank CashVantage Personal Financing-i | 1-day | 4.99% p.a. |
| MBSM Afdhal-i | 1-day (For new/fresh loan) | 3.35% p.a. |
| Alliance Bank CashFirst Personal Loan | 1-day | 4.99% p.a |

Here are some of the fast approval personal loans offered by non-banks on iMoney:

| Non-Bank | Approval Time | Interest/Profit Rate |
| --- | --- | --- |
| JCL Personal Loan | 2-days | 12.00% p.a. - 18.00% p.a. |
| JCL i-Fund Personal Financing | 3-days | 18.00% p.a. - 20.00% p.a. |
| YIR Personal Financing | 2-3 days | 5.99% p.a. |
| AEON i-Cash Personal Financing | 1-day | 7.92% p.a. |

Loan providers will look at a combination of factors when processing your loan, such as:

Record of your repayments history
Credit score
Current financial commitments
Income level
The type of your employment
Debt to service ratio
Current and future savings and other assets.

Though, the factors vary in accordance to the provider's terms and conditions.

Here are some tips to get your fast approval personal loans approved:

Yes, you can apply with a bad credit rating. However, your chances of being approved are lowered and you may face higher interest rates in the event that you are approved.

Learn more about improving your credit score here.

Collateral:

This refers to the asset the borrower pledges to a given lender in order to secure a loan and this will be impounded by the lender in case of default in payment of the loan. The case in Malaysia particularly for the islamic personal loans don require the need for a collateral.

Early settlement penalties:

The fees that the borrower will have to pay in the event that he/she had settled the loan at an earlier date from the one specified on the loan agreement. This is usually estimated as a percentage of the initial loan amount.

Guarantor:

This a person who agrees to be liable for the payment of a loan in the event that the borrower will not be in a position to pay it in time.

Late Payment Charges:

This is the fee that the bank will charge you in the event you are not able to pay your loan in the agreed time schedule. The borrower has to pay for this additional fee and it is mostly at the rate of 1 % per annum.

Loan/Financing tenure:

This refers to the period for a certain loan. At the end of the loan tenure the borrower is supposed to have cleared the loan taken.