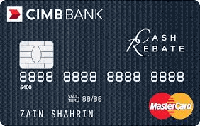 CIMB Cash Rebate Gold
Min. Monthly Income

RM 2000

Interest Rate

15% p.a.

Cashback

RM50 /card

Annual Fee

Free
"
Great cash rebates with 10% cash back on monthly interest charged, a 5% cash rebate on online spending, and 2% cash rebate on all retail spending!
"
iMoney Editor's Review
10% Cash Rebate on monthly interest charged
5% Cash Rebate on online spend
5% cash rebate per month on online shopping

2% cash rebate per month (via Standing Instruction only)
Eligibility/Documents

Min. Monthly Income

RM 2000

Min. Age for Principal Holder

21

Fees and charges

Other Fees and charges

Late Payment Charges

Higher of RM10 or 1% of outstanding balance, up to a maximum of RM100

Finance Charges

15% p.a. – prompt minimum payment for 12 consecutive months
17% p.a. – prompt payment of at least 10 out of 12 months
18% p.a. – if the above are not met

Sales and Services Tax (SST)

0% on annual fee and other charges

Supplementary Card

Min. Age for Supplementary Holder

18 and above years old

Fee for Supplementary Holder

Free for life

Cash Advance

Amount

80% of prescribed available credit limit

Charge

Higher of RM15 or 5% of cash advance amount

Other cash advance info

Cash Advance Interest Charge

18% per annum on cash advance amount

Others

Rewards Points Expiry

N/A

Other benefits

0.2% cash rebate for other expenditures

Up to 25% discount and additional 20% cash rebate at participating merchants like Zalora, GSC, Expedia, Agoda, Lazada and many more

Balance Transfer

Min. transfer amount: RM1,000, [Plan A]: 5.99% p.a for a tenure of 6 months , [Plan B]: 7.99% for a tenure of 12 months

Instalment Plan

0% Instalment Payment Plan at all participating merchants
Balance Transfer
to any CIMB credit cards
6 months
Interest Rate

5.99% p.a.

Min. Transfer Amount

RM1,000

One-time Upfront fee

-
12 months
Interest Rate

7.99% p.a.

Min. Transfer Amount

RM1,000

One-time Upfront fee

-
Prefer to talk to our customer care agents?
How do you apply
for a credit card online?
Step 1
Use our Credit Card Smart Search to find a list of cards that fits your needs! Choose the one you are interested in.
Step 2
Once you fill in your contact details, we will call you to help you apply!
Read more
about Credit Card
The CIMB Cash Rebate Gold card gives 5% cash rebate and up to 25% discounts and another 20% additional cash rebates when you shop online on various participating sites. Besides, it offers a 10% cash rebate on monthly interest charged with no maximum capping and 2% cash rebate on petrol and groceries and 2% cash rebate on mobile and utility bill payment (via standing instructions). This card comes with a complimentary Touch 'n Go Zing Card with 'No Reload Fee" as well!

The annual fee for this card is free for life! However the "No Reload Fee" is only valid until 31st December 2014 and there is also a cashback limit of RM50 per card. By settling your payments promptly on time (this means settling the minimum payment, 5% of the outstanding balance or RM50 whichever is higher) you get to enjoy a low finance charge of 15% per annum. As for the late payment charges, amount charged will be 1% of outstanding balance or RM10 (whichever is higher), capped to a maximum of RM 100. Also, if you wish to do a balance transfer, there is a minimum transfer amount of RM 1,000 and comes with a 5.99% rate for the 6 months tenure and 7.99% for a tenure of 12 months.

To apply for CIMB Cash Rebate Gold Card, you need a minimum income of RM2,000 and to be at least 21 years old for principal holder and at least 18 years old for supplementary holder.

Looking for more options to choose from? Our credit card experts, also recommend you to check out other similar credit cards such as CIMB Cash Rebate Platinum Card and HSBC Premier World MasterCard, which may match your requirements.

If you prefer to broaden your credit card search, review more CIMB credit cards and start comparing today!